Home
About Bridge Multimedia
Screening Room
Services
Accessible Media Development
Audio Description
Bilingual & ELL
Captioning
Extra InfoTM
Products

GREAT EXPECTATIONS
Picture Books Come
to Life for Blind/VI Kids

WEIGHTS
One Blind Man's Journey



Special Projects



ED/OSEP-funded Television Access Project
About Us
Bridge Multimedia is a New York City-based media company dedicated to supporting all facets of universally accessible media for entertainment, educational, commercial, and government applications.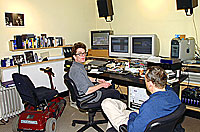 Avid 2. Click on image for larger photo and description.
Accessible media uses state-of-the-art digital technology to provide greater accessibility to a variety of electronic media and multimedia entertainment. Universally accessible media increases the freedom, independence and productivity of ALL people. Bridge Multimedia is at the forefront of producing today's universally accessible media, and is setting the pace for the development of tomorrow's innovations.
Bridge Multimedia's services include:
AUDIO DESCRIPTION in all media formats, including broadcast & cable TV, video, streaming media, Internet, CD-ROM and DVD.


CAPTIONING in all media formats; closed and open caption configurations. We are fully equipped for captioning production in both linear and non-linear formats. We can archive all captioned data as AVID media assets for a program or series.


BILINGUAL ACCESSIBILITY: Bridge offers bilingual description and captioning, as well as translation and dubbing of any media content. Bilingual and Spanish adaptations of EXTRA InfoTM are available.


ACCESSIBLE WEBSITE DEVELOPMENT both for new sites and assessing and configuring existing video and Internet content to add universal W3C- and 508-compliant accessibility in HTML, XML, SMIL, Flash MX, Windows Media and other downloadable formats. Using a developer/programmer/designer team of Section 508 and W3C specialists, Bridge works with clients, Bridge works with clients to create engaging web content that is accessible to the widest possible audience.


CROSS-DISABILITY PRODUCT DESIGN: Our technology integrates the needs of the blind/low-vision, deaf/hard of hearing, print-disabled, learning-impaired, mobility-impaired, and low-literacy populations.


ENGLISH AS A SECOND LANGUAGE: Bridge develops scripts and carefully edits supplementary content to ensure that key concepts are presented without difficult linguistic constructions, in a context that enhances understanding by those who are in the process of acquiring English language skills. Bilingual and Spanish adaptations of program content and EXTRA InfoTM are available.


COMPREHENSIVE MEDIA PRODUCTION: Bridge has extensive technical resources. From concept to post-production, Bridge is the single source for the delivery of digital media for television, video, audio, DVD, CD and the web.
Visit our Screening Room
Bridge Multimedia offers:
High competency and practical experience in providing audio description and accessibility technology.


Extensive experience with cross-disability product design.


Thorough knowledge of federal laws regulating media accessibility, including pending federal legislation.


Solid production and post-production expertise for video, audio, and electronic media.


Learn More:
About Us | More About Us | Technology & Content Breakthroughs | Our Unique Approach