Home
About Bridge Multimedia
Screening Room
Services
Accessible Media Development
Audio Description
Bilingual & ELL
Captioning
Extra InfoTM
Products

GREAT EXPECTATIONS
Picture Books Come
to Life for Blind/VI Kids

WEIGHTS
One Blind Man's Journey



Special Projects



ED/OSEP-funded Television Access Project
More About Us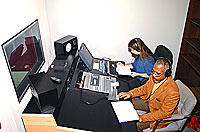 Audio Record and Edit E. Click on image for larger photo and description.
Universally accessible media increases the freedom, independence and productivity of people with disabilities, and fosters a more open and dynamic society. Bridge Multimedia is at the forefront of producing today's universally accessible media and is setting the pace for the development of tomorrow's innovations.

Bridge Multimedia is:
AUDIO DESCRIPTION in all media formats, including broadcast & cable TV, video, streaming media, Internet, CD-ROM and DVD.


CAPTIONING in all media formats. We are fully equipped for captioning production in both linear and non-linear formats. We can archive all captioned data as AVID media assets for a program or series.


ACCESSIBLE WEBSITE DEVELOPMENT both for new sites and assessing and adapting existing video and Internet content to add universal W3C- and 508-compliant accessibility in HTML, XML, SMIL, Flash MX, Windows Media and other downloadable formats.


IMPLEMENTATION:

Assistive Technology:

JAWS, Window Eyes, HomePage Reader, MAGic
Browsers:

Internet Explorer, Mozilla, Netscape, Opera, Lynx
Operating systems:

Windows, Mac, Linux
BILINGUAL ACCESSIBILITY: Bridge develops scripts and carefully edits supplementary content to ensure that key concepts are presented with linguistic clarity, in a context that enhances understanding by those who are developing English language skills. For the benefit of the growing Hispanic population, bilingual and Spanish adaptations of many materials are also available.


CROSS-DISABILITY PRODUCT DESIGN: Our technology integrates the needs of the blind/low-vision, deaf/hard of hearing, print-disabled, learning-impaired, mobility-impaired, and low-literacy populations.


DIGITAL TECHNOLOGY: 8 soundproof audio studios; 5 Avid editing suites; an Avid Symphony; 3 Final Cut HD Pros; 4 audio mix rooms; website and interactive design; web, DVD and CD-ROM authoring; multi-standard conversions and video compression; captioning. In-house duplication of all media formats; High Def, 5.1 Surround Sound and digital cinema technologies are also available.


STUDIO RECORDING CAPABILITIES: Bridge Multimedia's voice-recording studios feature Pro Tools digital systems with a full complement of outboard equipment, and are staffed by highly experinced engieers. Any length of recording, on any schedule, can be accommodated.


FIBER-OPTIC NETWORK CAPABILITIES: Our integrated digital post-production facilities operate on a storage-area network, providing massive amounts of active memory. Any number of editors can be working on any number of sessions simultaneously.


RECORDING/EDITING/MIX-TO-PICTURE CAPABILITIES: Over the past several years, we have developed—and are continually refining—a high-capacity system for recording narration and audio description for television, video, audio, Internet, DVD, and CD-ROM and applications utilizing a unique and rapid work-flow process.


VIDEO AND MEDIA RESOURCES: We have the capability to receive, process and output both audio and video in any format, digital or analog. We maintain high-speed Internet access, as well as our own FTP (file transfer protocol) server. For clients with large video libraries, and those making a changeover to the digital television (DTV) standard, these resources offer significant benefits in the areas of cost, work flow and quality. Bridge Multimedia also offers its clients the convenience of viewing work in progress, via streaming audio and video, through a secure password account. Clients can post their comments interactively at any point in a program. The system will track the location of the comments for expedited content modifications.


NARRATOR RESOURCES: We have a diverse range of professional narrators who regularly record projects for the blind and visually impaired. These veteran actors bring a distinctive expertise to their clear, concise voice-overs.


TEXT-PREPARATION CAPABILITIES: Bridge Multimedia has a staff of specialized editor/writers with specific qualifications in text adaptation for the blind or visually impaired. Our specialists produce thousands of hours of recordings each year. We also have first-class bilingual/multicultural translation and adaptive resources for many languages.


RESEARCH AND REFERENCE RESOURCES: Our researchers and writers have access to comprehensive research materials and resources, to assure the accuracy of current data and the proper pronunciation of modern popular figures of speech.


GOVERNMENT POLICY TRACKING: We continually monitor the IDEA reauthorization, NIMAS, the DAISY 3 standard, the federal electronic document standardization initiative and the FCC's reauthorization of video description. The accessibility projects we produce today will reflect the mandates of tomorrow.


HISTORY: Our twenty-year history of award-winning projects includes audio and sound design for television series and specials, television and radio advertising campaigns, interactive television, books on tape, books on CD-ROM, corporate communications, and multimedia education packages. Most recently, we have been at the forefront of the technological development of 5.1 Surround Sound for DVD and digital cinema, and interactive sound design for distance learning.


Learn More:
About Us | More About Us | Technology & Content Breakthroughs | Our Unique Approach