Audio Description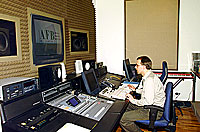 Audio Mix 2. Click on image for larger photo and description.
Audio description inserts narrated explanations of a program's key visual elements into the existing pauses of its audio track, making television, movies and digital media more accessible to:
those who are blind or visually impaired
those with learning differences
those with print disabilities
those on the autism spectrum
English Language learners
In some cases, audio description (also called video description and sometimes just description) can be inserted into existing pauses in a program's dialogue. In others, sophisticated audio post production techniques are used to create sufficient space to insert the necessary descriptions. Description is also utilized for museum exhibits and tours, live events, performances, presentations, etc.
For the past 10 years Bridge Multimedia has been producing, researching, and promoting description. Recent projects include:
5 year grant from the U.S. Dept. of Education to produce audio description for educational children's television to be broadcast on Nick Jr., PBS, The Disney Channel, and others
Producing description in languages including English, Spanish, Brazilian Portuguese, French, Mandarin Chinese, Japanese
Collaboration with The National Association of Parents of Children with Visual Impairments to study the development of audio description
Collaboration with TERC, funded by the National Science Foundation and the U.S. Department of Education, to research and produce accessible media
Delivering an international presentation about audio description and digital television to the Brazilian Society for Television Engineering
Building on this experience, Bridge is moving audio description forward by enhancing it with additional functions such as Curriculum Aligned Description, Socially Universal Language, and EXTRA Info. These augmentations have been tested and developed by Bridge's team of experts which include a language and literary specialist, a math and science specialist, authorities in the field of core curriculum standards, as well as professional audio description writers, editors, and quality control directors.
Curriculum Aligned Description recognizes that national mathematics and English language curriculum Standards have already been developed and adopted. In producing educationally-based audio description, which reflect these Standards, Bridge will ensure that its accessible programming will remain relevant and vital for many years to come.
Socially Universal Language is a new form of universal design which bridges difficulties in cultural translation through a socially universal communication that captures the speaker's intent on both "literacy" and "cultural" levels. Learn more about Bridge Multimedia's Socially Universal Language
EXTRA Info TM is a unique online service designed to provide fully 508-compliant supplemental background information. This expanded information, with a particular emphasis on significant details, aims at heightening the overall appreciation and comprehension of a given program. Learn more about Bridge Multimedia's EXTRA InfoTM
---