Audio Description
WHAT IS IT??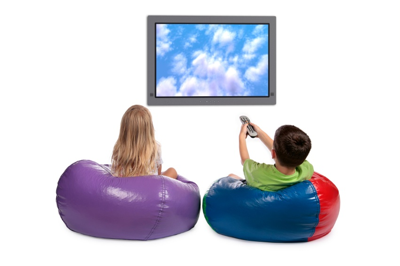 Audio description is supplementary audio content that provides an explanation of the visual information that a person with vision loss may need in order to understand, appreciate, or enjoy an event, exhibit, or presentation. Depending upon what is being described, sometimes audio description is pre-recorded, and sometimes it is spoken live, and care is taken to avoid interfering with other important audio aspects of the material. Audio description can be used to enhance the experience of visually impaired people watching television shows, movies, live events, museum exhibits and tours, or other events or presentations where much of the important information is provided visually.
1.

2.

3.


Illustrations 1-3 Three symbols used to designate that a program or performance offers description.
History of Description
Audio description is also called video description, and sometimes just description. The idea behind it is probably as old as entertainment, itself. Any person leaning over to whisper a missed key event or to clarify what just happened, is providing a form of description. While such interruptions might interfere with the enjoyment of the program, audio description is specifically designed not to disrupt the program - it fits right into the flow of each scene. In the United States, description for live theater performances and museum tours began to appear in the early 1980's. By 1990 audio description could be found on PBS and cable television programs. During the next 20 years, description was used in public movie showings, and even for opera performances, and has been included in videotapes, then DVDs and Blu-Ray, and now as streaming video on the Internet.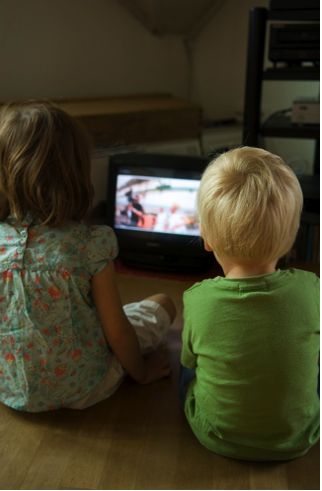 Description on Television
In 2010 President Obama signed a law, requiring the top four broadcast networks and top five cable networks in the most populated markets in the United States to provide 4 hours per week of audio description. These numbers will continue to grow throughout the next ten years. The ultimate goal is that eventually audio description will be available throughout the country. The audio description logo appears in many television listings. The Narrative Television Network (NTN) is an organization that currently provides audio description for television. This Emmy Award-winning group has been producing description since 1988. Visit their website to link to free narrated programming online. Programming includes education, entertainment, and movies.
Description in Movies
Audio description is available in certain movies. Many theaters have equipment installed to deliver the narration through a listening system. Movie goers put on a special wireless headset to hear a description of important visual elements that are happening in the movie. Every year, more movie theaters and entertainment centers offer description, including IMAX theaters, National Park Visitor Centers, and Disney Parks and Resorts. The audio description logo will be displayed on movie posters and movie listings. Also, there is an iPhone app, called Captionfish, which allows people to find movies with description that are playing within 60 miles of their location. The app also gives show times and trailers for those movies.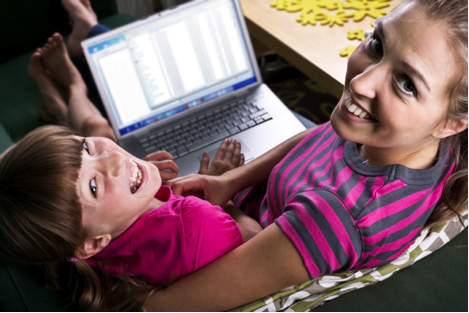 Description in DVDs, Blu Ray, Internet Streaming
Although there are only a limited number of DVDs available with audio description, in 2010 there were more described DVDs released than in the last 10 years combined. Many major Hollywood studios, such as Sony, Universal, and Disney, have agreed to describe their DVD and Blu-ray releases whenever description is produced for their original theatrical movies. When available, there will be an audio description logo on the DVD box or in the setup menu. The Audio Description Project, an advocacy group sponsored by the American Council for the Blind, posts a list of DVDs that include audio described tracks. This list also provides links to pages where you can purchase these DVDs.
Description in School Videos and Educational-Based Media
One of the most beneficial uses of audio description is that it allows ALL students to take advantage of educational video programs. The U.S. Department of Education supports this by providing federal funding to promote and produce audio description. The Described and Captioned Media Program (DCMP) is such a group. The DCMP library contains over 4000 educational titles with audio description. They are made available, for free, to classrooms with students who have disabilities. The Department of Education is also funding a project to bring audio description to educational-based children's television programming.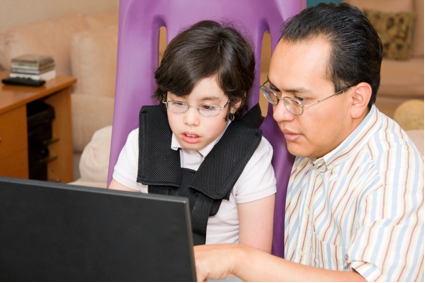 Description for Live Performances
Description is available for theater, opera, dance … just about any live performance. Theatrical companies sometimes use live describers to explain actions, exits, entrances, and important props. Description sometimes includes details of the stage setting, backgrounds, and costumes. The description is delivered through a small handheld receiver with a volume control and a headset. Broadway is currently making a huge push to include description in its shows. For a list of theaters around the United States that offer description, visit the Audio Description Project's performing arts web page. Also, call up the theater you're interested in visiting and ask if they provide audio description.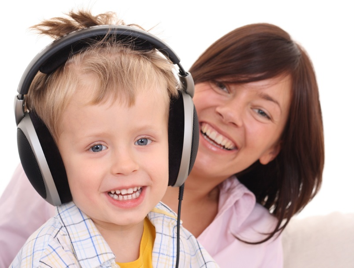 Description for Museums, Exhibits, and Tours
A growing number of museums and parks offer tours with description. Audio described museum and park tours explain visual aspects of objects, such as their size, shape, color, texture, etc. along with the standard audio tour's information about objects' history and cultural significance. Museum and parks audio description also helps lead visitors from exhibit to exhibit. A list of exhibits around the United States that offer description, is available at the Audio Description Project's museum web page.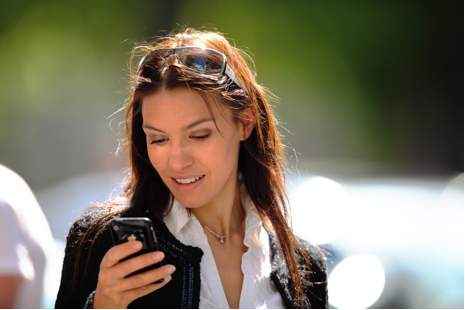 21st Century Tools for a New Age of Video Accessibility
In the past few years the art and science of audio description has developed markedly. The Media Access Group's National Center for Accessible Media (NCAM) is a research and development facility that has been instrumental in moving description forward in numerous areas including film, television, and even for mobile devices. As audio description continues to progress, its future appears tremendously exciting! The shape of things to come includes crowd-sourcing, remote real-time description, and automated description. The Video Description Research and Development Center (VDRDC) is leading the way to such innovations. Funded by the U.S. Department of Education, VDRDC investigates methods to advance new technologies for audio description.
Spread the Word
The best way to help make description more popular is to tell people about it. Let them know about some of these websites and about how many different types of performances are served by description. That way they can get an idea of what's out there. If more people know about this important service, then more people can advocate for the continued growth and technical development of audio description.
About Bridge Multimedia
Bridge Multimedia develops accessible technology and produces accessible content. Bridge has described and captioned programming in English, Spanish, Portuguese, French, Japanese and Mandarin Chinese. Under a contract from the U.S. Department of Education, Bridge is producing audio description for children's programming that will be broadcast on ABC, Disney Jr., Nick Jr., PBS, and other networks.
Websites and Links for More Information
In association with the U.S. Department of Education Office of Special Education Programs, NAPVI, the National Association of Parents of Children with Visual Impairments, and Hands & Voices International
---
---