EXTRA InfoTM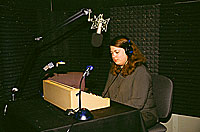 Record Booth: Audio Record and Edit C. Click on image for larger photo and description.
Bridge Multimedia has brought audio description to a new level through our introduction of EXTRA InfoTM.
EXTRA stands for EXpanded Tools for Reading and Accessibility. It is a multimedia glossary which provides fully 508-compliant supplemental information. EXTRA Info offers more thorough visual descriptions than are possible within the audio described programs, themselves. EXTRA Info also defines select non-standard vocabulary.
EXTRA Info offers important benefits to the blind/low-vision and deaf/hearing-impaired populations, as well as to individuals with learning differences, low literacy and those acquiring English language skills.
EXTRA Info offers viewers of broadcast and cable television programming greater comprehension and flexibility by allowing online access to supplementary information before or after a scheduled program.


Through the use of streaming and digitally downloadable media, material can be paused at any point during its presentation. The viewer can access the expanded information, and then continue playing the program.


DVDs and CD-ROMs also give viewers the option of pausing their programs. The viewers then can access the useful expanded information at their convenience.


When implemented for entertainment-oriented programming, EXTRA Info can include:
Descriptions of locations, characters, and costumes


Character biographies


Framework concerning the settings and background history of a story


Plot recaps of past episodes of a continuing drama.


In the field of electronic and information technologies, where content is more information-driven, EXTRA Info can make readily available:
Associated data


Statistical charts


Prepared figures


Detailed reports


EXTRA Info can be provided in multiple languages to serve an even wider range of audiences.
EXTRA Info content can also include:
Fully enabled content:
Specifically designed information, and preexisting material are carefully prepared and edited to meet our accessibility standards.


Accessibility and support for bilingual, ELL, and L.D. readers:
Material tailored towards readers with specific requirements, as well as extra aids for those with learning differences and regardless of each user's level of English language proficiency.


Links to existing sites:
Links to websites that offer various authorized documents or direct access to convenient forms that can be filled out online.


EXTRA Info can be accessed in numerous ways:
Via the Internet as scalable text


As screen reader-compatible information


On separate audio channels on CD-ROMs & DVDs


Via menu-managed interactive telephone services (similar to MovieFone)