Lynn Manning: A Man of Unique Vision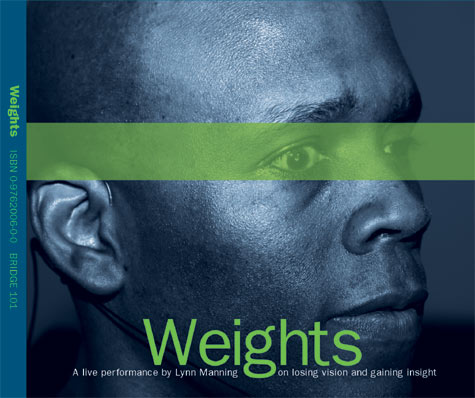 WEIGHTS CD Cover. Click on image for larger photo and description.
Lynn Manning is not your ordinary man. He is an award-winning playwright and a critically acclaimed actor. He is an international judo champion and world-class athlete. He is also a dedicated volunteer and works to help disabled individuals.
As an aspiring painter in his early twenties, Manning always figured that the worst possible thing that could happen to him would be the loss of his sight. On October 25, 1978, this prediction eerily became reality when he was shot in a bar, losing his eyesight completely.
Counselors, doctors, and even his own family told him to take it easy, to relax, to grieve for his loss; but Manning refused. Lynn was no stranger to adversity, having grown up as an impoverished black child in the foster care system of South Central Los Angeles, the son of an abusive father and an alcoholic mother. He decided that the loss of his sight was another difficulty he would have to accept and struggled to overcome his feelings of fear and powerlessness in a dignified manner. He was determined to go back to school and become a writer, and he has succeeded in this and much more. Today, Lynn Manning is the successful person he always knew he would be, even using his disability as an asset.
Manning's autobiographical, self-performed solo play, WEIGHTS, has been one of his greatest successes. First performed in 2001, it has received critical acclaim as well as three NAACP theater awards, including one for Best Actor. Since then, he has performed the play all over the country and internationally: in New York, Los Angeles, Washington, D.C., North Carolina, Canada, and Croatia. Currently, he is working on an audio version of WEIGHTS in 5.1 surround sound. Theatergoers and reviewers alike seem to be drawn to his candor and persistence; rather than wanting anyone to feel sorry for him, Manning uses his blindness as motivation.
In a scene in WEIGHTS, Manning expresses annoyance with the tendency of sighted people to treat the blind as weak and frail. At 6'2" and 215 pounds, this former blind judo champion of the world is anything but weak. Lynn Manning is a paralympic silver medallist and the U.S. Olympic Committee's former Blind Male Athlete of the Year. In fact, some reviewers of WEIGHTS initially thought that the title referred to weights in an athletic sense, rather than an emotional one.
Lynn Manning's talent and experience are very much in demand. He has appeared in numerous films and television programs, including SEINFELD and POPULAR. Soon he will be serving as a consultant to the upcoming new ABC primetime drama BLIND JUSTICE, which will tell the story of a police officer who decides to rejoin the force after being blinded in the line of duty. Lynn will advise actor Ron Eldard, formerly of ER, on how best to portray a blind man.
Lynn Manning sees himself as a person who is in a position to do a lot of good. Having himself benefited greatly from the Braille Institute of Los Angeles, he now serves as sensei of its judo program, teaching the martial art to blind children. In 2001, Lynn completed three years as Artist in Residence for the California Arts Council, giving workshops for the physically disabled and visually impaired. He currently is president of the Firehouse Theater Company, which aims to involve disabled people in the performing arts. Additionally, he is co-founder and Literary Manager of the Watts Village Theater Company, which brings theater arts education to the underserved Los Angeles community of Watts.
A lifelong resident of Los Angeles, Lynn Manning continues to reside there with his wife of two years, Shirley. WEIGHTS will reach an even larger audience through its upcoming audio version, and two of his other works, PRIVATE BATTLE and SHOOT!, are being developed into a screenplay and feature film, respectively. It seems like Lynn Manning never stops—and he wouldn't have it any other way.
More WEIGHTS-related resources: