Bridge Multimedia's Technology & Content Breakthroughs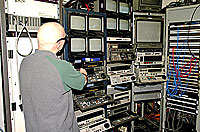 Duplication Area 2. Click on image for larger photo and description.
As well as innovating new technological methods for creating and delivering audio described content, we also have advanced description to a new level, through the development and implementation of EXTRA InfoTM: EXpanded Tools for Reading and Accessibility.


With an emphasis on details helpful to blind or visually impaired audiences, EXTRA Info provides background information aimed at heightening the overall appreciation and comprehension of a given program. EXTRA Info can be accessed online as streamed audio, as a screen reader document, or as a scalable text file. EXTRA Info, available in various languages, can include set and costume descriptions, character biographies, background facts concerning the settings of a story, and even plot recaps of past episodes of a continuing drama.
Learn More:
About Us | More About Us | Technology & Content Breakthroughs | Our Unique Approach