WEIGHTS: One Blind Man's Journey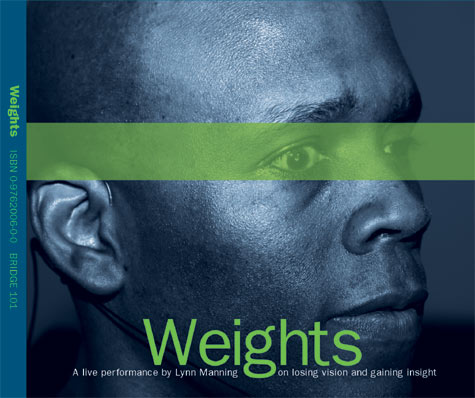 WEIGHTS CD Cover. Click on image for larger photo and description.
At 23, Lynn Manning lost his sight completely as the result of a gunshot wound he received during a senseless bar fight. In WEIGHTS, his autobiographical one-man show, Manning brings the listener into a world of sound through storytelling, poetry, music and the rhythms of life around him.
The son of an abusive father and alcoholic mother, raised in the foster care system, Manning illustrates the story of his impoverished upbringing in 1960s South Central Los Angeles, and the fateful incident which led to the loss of his sight. As he sets off down the road to independence, he must confront not only his fears and the new challenges of his everyday life, but the assumptions of others and his perceived weakness as a blind man in a sighted world.
Determined to realize his dreams, Lynn Manning has overcome the obstacles in his path to become a successful playwright, a world-class athlete, and a dedicated teacher and volunteer.
WEIGHTS is a passionate, inspiring dramatic work which has received much critical acclaim along with three NAACP Theater Awards, including one for Best Actor. Since its debut in 2001, WEIGHTS has been performed across the United States as well as overseas, in such locations as Los Angeles, New York, Washington, D.C., Canada, and Croatia.
In order to bring Manning's story to an even wider audience, Bridge Multimedia and Remote Recording have now recorded and produced WEIGHTS for audio CD, both in stereo and in 5.1 Surround Sound.
Listen and be uplifted by WEIGHTS.
What the critics are saying about WEIGHTS—One Blind Man's Journey
"If Manning has lived the sort of life a poet can tell best, it's ironic that he had to become a blind Homer to tell it…Manning gives us the mean streets of L.A., a childhood straight out of hell and a liberation entirely of his own making."
–Jay Reiner, The Hollywood Reporter
"A poignant story. Like others who have lost one of their physical senses, Mr. Manning finds others intensified. It takes a strong person to recognize it."
–Anita Gates, The New York Times
"Lynn Manning has created a monologue that is intriguing, engaging, and purely inspirational. We, the captive audience, hang on to every word."
–Entertainment Magazine Online
"Lynn Manning once was lost, but now is found; could see, but now is blind…. Manning helps the audience to see the world through his own shattered lens."
–Adam Feldman, Time Out New York
"Manning is the real thing, a writer of clarity, finesse and overriding humanity. His story vaults back and forth in time, splicing surrealism and realism, humorous banter and fiercely poetic outbursts into a sweeping autobiographical sampling."
–F. Kathleen Foley, Los Angeles Times
WEIGHTS has received three National Association for the Advancement of Colored People (NAACP) Theater Awards, including Best Actor for Lynn Manning.
For mature audiences
More WEIGHTS-related resources: