Skip Navigation
Audio Description
Bridge's OSEP Grant
CONSUMER ADVISORY BOARD MEMBER PROFILES

Barbara Ceconi is a nationally-recognized specialist in diversity and disability training. Ms. Ceconi has served on the advisory board of the PBS childrenís series Maya and Miguel, and has consulted with Scholastic Entertainment on Clifford, the Big Red Dog.

Susan LaVenture has been Executive Director of the National Association for Parents of Children with Visual Impairments since 1992. Ms. LaVenture has contributed to the creation of many publications, including A Report to the Nation and The National Agenda for the Education of Students and Youths with Visual Impairments, including those with Multiple Disabilities.

Rebecca Lindsey is the assistant principal at the Lois T Murray School, a division of the Kennedy-Krieger Institute, Baltimore, MD, which provides special education and related services to children with a range of disabilities, including those with intellectual disabilities and those with autism. Ms. Lindsey previously worked as a music therapist at the Maryland School for the Blind.

Lynn Manning is an award winning poet, playwright, actor, Paralympics Silver-medalist, and former World Champion of blind judo. Manning was a technical advisor to the prime time TV show Blind Justice providing his expertise regarding audio description.

Donna McNear is an Independent Educational Consultant, focusing on providing services to children and youth with disabilities. Ms. McNear is president of the Minnesota Chapter of the Association for Education and Rehabilitation of the Blind and Visually Impaired (AER) and has been an adjunct faculty member at Moorhead State University for teacher preparation in special education. .

Steve Noble is former Director of Accessibility Policy for Design Science, Inc., where he promoted math accessibility policy efforts. He is a member of the National Instructional Materials Accessibility Standard (NIMAS) Development Committee and serves as Editor-in-Chief for the journal Information Technology and Disabilities.

Beth Richman is a consultant specializing in research and content development for childrenís media. She was Director of Development and Creative Executive for Scholastic Media, where she managed the development and production of new television projects, including Maya and Miguel, a program that celebrates cultural diversity.

Leeanne Gillespie Seaver is the parent of a deaf child and has served as a founding Commissioner†for the Colorado Commission for the Deaf & Hard of Hearing. She is currently the Executive Director for Hands & Voices National. Ms. Seaver worked professionally as a writer and television producer for 20 years.
Samuel van der Swaagh, Samuel van der Swaagh, a student at Guttman Community College, is active in co-curricular activities on and off campus. Although Sam is legally blind, he has learned to work around his visual impairment by concentrating on the details of objects. As a result, he engages in detailed analysis of scientific and cultural information. His strong interest in the visual arts has afforded him the honor of participating in the Noguchi Museumís Make Your Mark program as well as an internship with the Metropolitan Museum of Art. He has had several of his works included in exhibitions around New York City.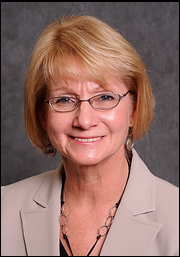 Mary Zabelski is the immediate past-president of the National Association for the Parents of Children with Visual Impairments (NAPVI) and the Senior Vice President of Educational Programs at the Chicago Lighthouse for People who are Blind or visually impaired.